A. What is a poly mailer?
Today, poly mailer is one of the most popular and cost-effective methods of shipping e-commerce goods. They are lightweight polyethylene packaging envelopes that are strong, durable, and flexible, and are a popular packaging choice. Poly mailers are widely used as an alternate shipping option to corrugated cardboard boxes since they are less expensive and easier to store than cardboard boxes. You can also personalize your poly mailer with popular colors and logos to increase brand recognition and create a one-of-a-kind custom poly mailer.
This article will explain what a poly mailer is, its various applications, and an in-depth look at the raw materials used in poly mailers, as well as their manufacturing processes and procedures.
1. Poly mailer characteristics: moisture-proof, sealing, sealing destructive adhesive paste, toughness enough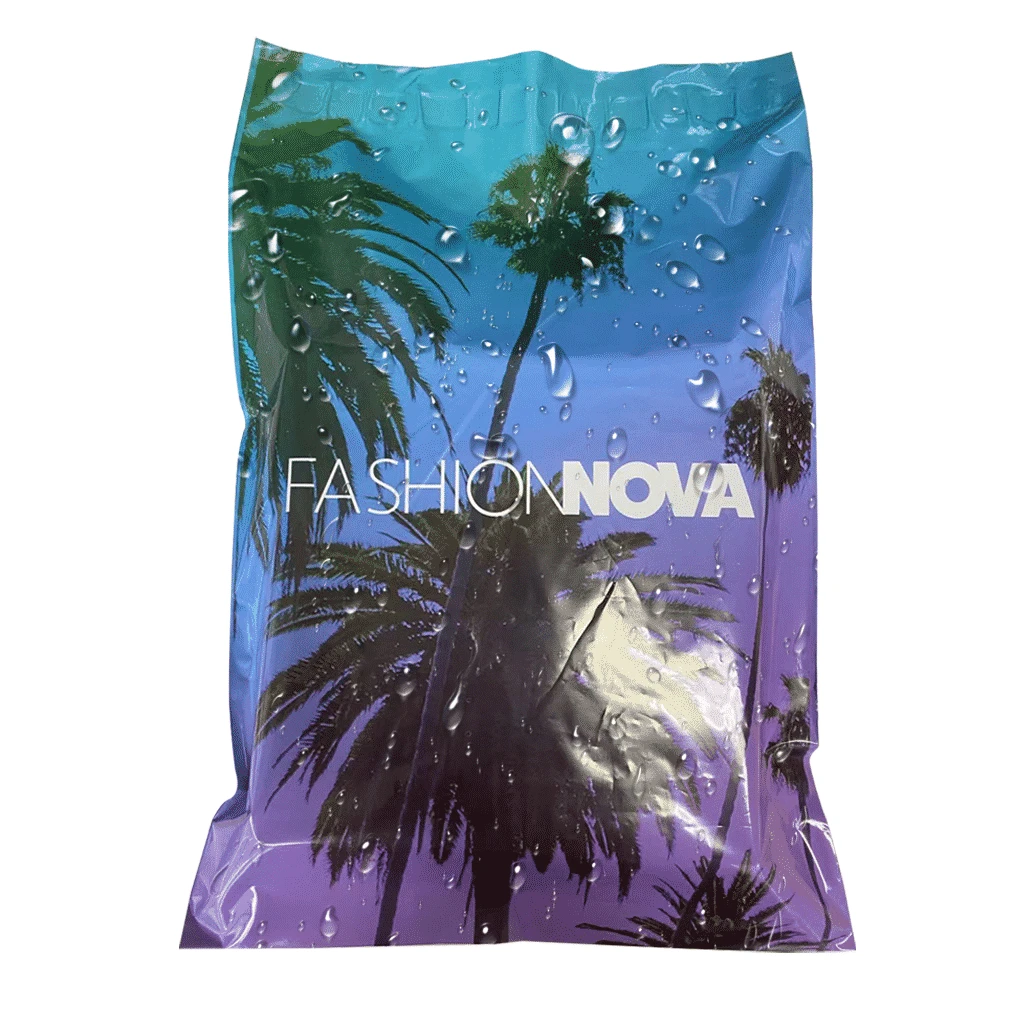 Self-adhesive strip for superb adhesion
2. The use of poly mailers: express, e-commerce parcels, logistics packaging.
3. Scope of application of poly mailers: suitable for transporting clothing, cartons, documents and non-fragile items.
4. The classification of poly mailers:
I. Based on their intended use, the poly mailers can be divided into ordinary poly mailers ,poly mailer with QR code and poly mailers with handles.
II. According to the assembly method, there are Wicket and Roll.
III. Based on the direction of the bag opening, it is divided into the horizontal opening and vertical opening.

5. Size of poly mailers: The largest size is typically 35.5×35.5″, while the smallest is 4×4″. The following sizes are generally available in the market: 5 x 7″, 6 x 9″, 7.5 x 10.5″, 9 x 12″, 10 x 13″, 12 x 15.5″, 14.5 x 19″, 19 x 24″, 24 x 24″, and 26 x 32″.
-What size of poly mailer do I need?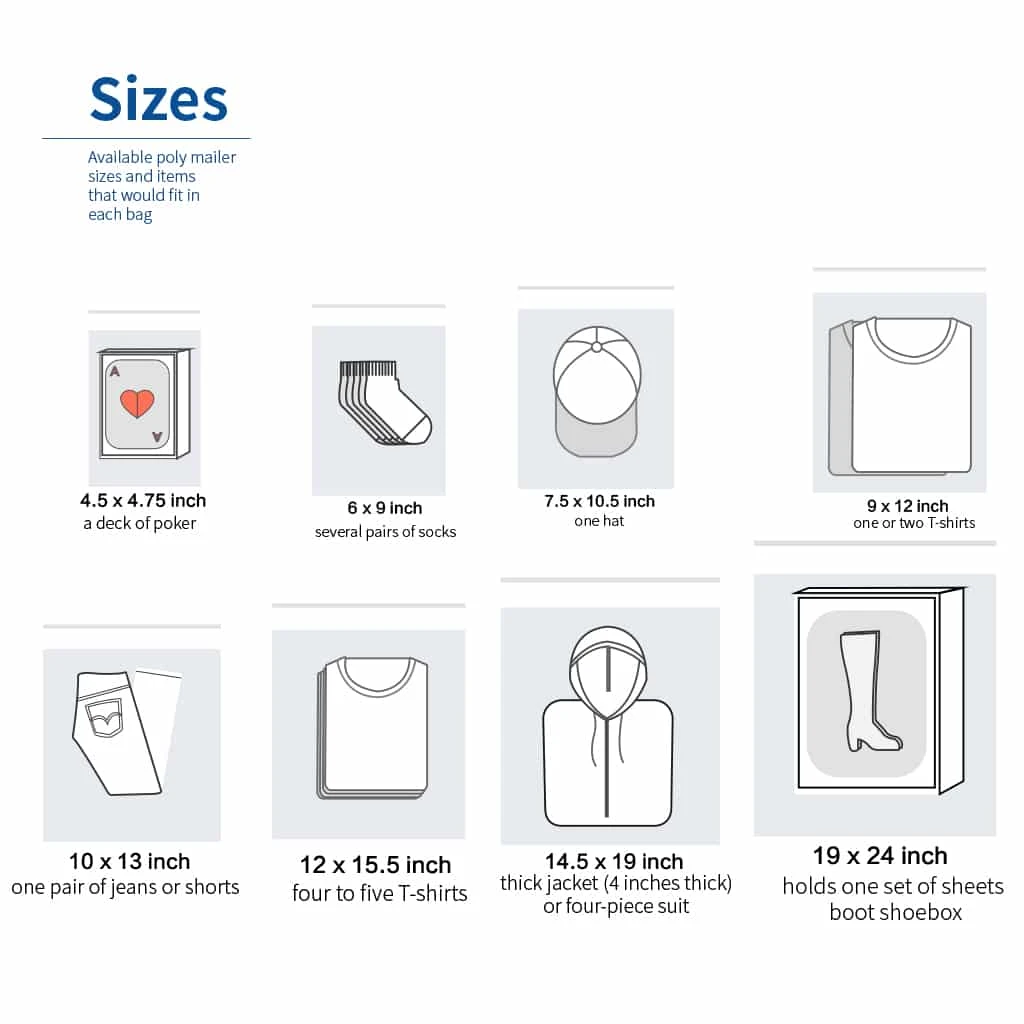 I. 6 x 9 inches: Great for socks and tiny jewelry boxes. 
II. 7.5 x 10.5 inches: Can fit a tea towel, socks, slightly larger jewellery boxes, and small electronics. 
III. 9 x 12 inches: Can accommodate fabric patterns or one to two t-shirts. 
IV. 10 x 13 inches: Fits four to five large t-shirts, a set of napkins, a dress shirt, or one yard of fabric. 
V. 12 x 15.5 inches: Can fit one sweater, dress, pair of jeans, two yards of fabric, yarn, or four to five large t-shirts. 
VI. 14.5 x 19 inches: Can fit 12 to 14 medium t-shirts, 10 to 12 large t-shirts, two to three sweaters or dresses, two pairs of jeans, a set of sheets, or three yards of fabric. 
VII. 19 x 24 inches: Can fit a set of sheets, 12 to 14 large t-shirts, two to three sweaters or dresses, or two pairs of jeans. 
B. Raw materials of poly mailer
Poly mailers are typically made from two types of raw materials: LDPE (low-density polyethylene) and HDPE (high-density polyethylene). 
LDPE has a lower crystallinity (55-60%) and softening point (90-100°C) than HDPE, but it has better flexibility, extensibility, transparency, cold resistance, chemical stability, electrical insulation, and permeability. It has low water absorption, is easily combustible, and has a good low temperature (-70°C) resistance, but it has poor mechanical strength, moisture barrier, gas barrier, and solvent resistance. It also has a lower mechanical strength than HDPE, is heat resistant, has a poor resistance to solar aging, and decomposes easily with age. The density of LDPE ranges from 0.915 to 0.94.
HDPE has a high degree of crystallinity (85%-90%) and is a non-polar thermoplastic resin with good heat resistance, cold resistance, good chemical stability, good rigidity, and toughness, and its hardness and tensile strength are higher than LDPE. However, it is not as insulating as LDPE, with a softening point (25-30°C) and a density between 0.941 – 0.96.
 
C. Categories of poly mailers:
Poly mailers are available in the market in two categories which are raw materials and regrind.
New material poly mailers

: Characterized by no impurities, bright colors, high brightness, good transparency, good tensile strength, printing color is relatively bright, pungent odor is very small, no odor, feel very smooth, and made of new material products are more stable, the color and performance between batches are very stable. The drawback is that it can be pricey.
Recycled material poly mailers

: It is manufactured from scrap from first-class items or garbage from first-class products that has been warmed, melted, cooled, and crystallized. They have a dark color, poor brightness, somewhat lower tensile strength. However, poly mailers made from recycled material are more eco-friendly than ordinary's, and it will follow the concept of environmental protection and low-carbon design throughout, just like the Nike space hippie shoes which are very popular in the market, where about 75% of recyclable materials are made from recycled plastic bottles, T-shirts and waste yarn, following the concept of environmental protection.
 
D. The Production Process of Poly Mailers
Below are the various steps to take in the production of poly mailers;
Step 1: Blow membrane
Blow membrane is a plastic processing method in which plastic particles are heated and melted and then blown into a membrane of a plastic processing process, typically using polymer extrusion molding tubular film blanks, in a better state of melt flow through high-pressure air will be blown into the required thickness of the tube film, after cooling and shaping into film. Blown membrane is also quite demanding on the machine, and blown membrane material generated by a professional film blowing machine is suited for a range of high-grade film packaging due to its good barrier qualities, freshness, humidity, frost protection, oxygen barrier, and grease resistance. This film may be extensively utilized for light and heavy packing such as all kinds of fresh fruit, meat food, pickles, fresh milk, liquid drinks, medical supplies, and so on. 
If a non-professional film blowing machine or film blowing machine does not follow the correct approach in the process, the film material produced may be of poor quality. Poly mailers are often comprised of three layers of coextruded film, which is tougher and more resistant to punctures than many goods on the market today and is less likely to break during shipment. The interior layer of the poly mailer is usually black or grey to promote secrecy during shipment, and the exterior layer is light grey (or can be customized).
Step 2: Printing
The poly mailer is printed using a gravure machine. It is necessary to print the pattern or text on the copper plate etching etched. After the printed plate is created and installed on the gravure printing machine, the ink will be connected to the places where there is a pattern or text, and there will be no ink where there is no pattern or text. The printing plate with ink attached and the three layers of co-extruded film of the poly mailers are fully and under pressure, requiring the pattern or text to be printed on the three layers of co-extruded film, and finally the printing of the poly mailers will be accomplished. 
The printing pattern or text of the poly mailer is tailored to the customer's specifications. It is classified as full-plate printing, partial printing, single-color printing, and multi-color printing. When a customer customizes a pattern with four or more colors, the requirements for printers and printing equipment are extremely high. This necessitates not only experienced printers, but also a high level of machine precision. Otherwise, the flexibility of the poly mailer material will produce the effect of uneven printing overprint. As a result, the design of the poly mailer pattern should be as simple as possible, and if using many colors, avoid overprinting.
Step 3: Bag cutting and Bag making
The third step which is the last phase on the express bag production line is bag cutting and bag making, which refers to the bag cutting process on the machine and then being produced into finished bags. You can proceed to this step after checking that the print sample is correct. Poly mailer gluing is used to destroy the gluing; once poly mailer is sealed, we must consider the package tamper-proof, anti-theft function. As a result, the selection of hot melt glue in the bag-making process is also crucial.
A good hot melt adhesive is controlled and evenly distributed by specific temperature, thus the poly mailer we manufacture can be destroyed within 3 seconds of lamination. When the poly mailer is unwrapped, the easy tear strip tears along with it and cannot be glued back together for further use.
E. Factors to consider when designing poly mailer.
When constructing a poly mailer, there are a few things to bear in mind.
1.Before typesetting the poly mailers, the designer will determine the size of the finished bag. Typically, the length and width of the poly mailers are off by around 5mm. Also, pay attention to the direction of the bag's opening, which is normally divided into horizontal and vertical apertures. To avoid reversing the direction of the text, the direction of the different openings should correspond to the direction of the text. There are additional horizontal apertures for poly mailers, which depend on the customer's needs to determine whether the bag is to be flipped left or right, or front or back.
2.The second thing to consider is the width of the flap. If the bag length is greater than 20cm, the flap width is normally 5cm; if the bag length is less than 20, the flap width will be 4cm. When the flap is brought over, the breadth of the flap should be greater than the size of the flap (flap), preferably by more than 5mm. Otherwise, it tends to cover the reverse page's content, leaving the image unfinished.
3.Lines should be thicker than 0.2mm; lines that are too thin are easily blurred.
4.The design file is ideally developed by vector program AI, EPS, PDF format, so that sharper lines can be produced. Bitmap is also acceptable, but the resolution should be around 300.
F.With regard to the quality control of poly mailers, there are the following main points to note:
1.Blown membrane:
–  Blown membrane thickness (usually 2 to 2.4 mil)
–  Crystalline spots on blown membrane (the issue of crystalline spots depends on whether we use new or recycled material)
–  Blown membrane color (no obvious color difference, at least 90% similarity to the sample).
2. Printing:
The ink must be clear, non-blurred, non-stretching, non-gluing, and have high adherence. Tape can be used repeatedly without losing its color.
3. Bag-making:
Bag-making size, neat and burr-free edges of cut bags, length and width of glue application, adhesion, material, and specification of release film (depending on clients' requirements).
4. Sealing test:
QC should test the sealing force of the bag, not in a straight-line cracking.
5. Toughness and tensile strength test:
This is an important indicator to determine whether the courier bag is fragile; a good bag is difficult to break; at least 3-5cm outward force to pull the strength to reflect the bag's quality. It is preferable to use a poly mailer manufactured with new material for high tensile strength.
6. Packing:
It must be neatly placed, wrapped around the film (according to the freight forwarder's requirements), packing tape tight but not off the buckle, pallet specifications, load-bearing capacity, and pallet indicators.
Furthermore, we have long-standing agreements with third-party quality assurance organizations such as SGS, TUV, UL, and other specialized global professional inspection and certification agencies that purchasers can use to assure the quality of their products throughout the supply chain.Third-party product inspection is an important part of quality control because it assists you in controlling the quality of your products at various stages of the manufacturing process, effectively preventing quality problems, and assisting you in safeguarding production, ensuring product quality, and protecting your brand image.
G. Various Means of Transporting Poly mailers:
According to the various means of transportation, there are three main types of transporting poly mailers which are as follows:
1. Transport by air
Transport by air is classified into two which are transport through express and transport through air freight.

-Transport through express:
In general, little pieces are transported by express, which is more convenient and efficient, and they can be delivered immediately to the door.
-Transport through Air freight:
Airfreight is typically used for small or urgent shipments; the cost of air freight is more than that of sea freight, but it is faster.
Air transport delivers to the airport terminal after the last journey unless the customer has a particular designation that requires a truck to the door, which is usually provided by express.
2.Transport by Ship
The first course is all by sea, the last course can be divided into sea-going and sea-carrying depending on the delivery method.

(1) Sea-derived

The sea dispatch is an express delivery to the door, suitable for the number of not a lot, the volume is not very large goods. Advantages: compared to the sea card, slightly cheaper; disadvantages: easy to lose pieces.

(2) Sea-truck

It is suitable for goods of larger volume. It is generally recommended that goods below 5 square meters should be sent by sea, which is more cost effective.
3. Transport by Truck

To several European countries, you can send directly by rail but from your domestic to the United States, you must usually send by air or sea.