What is a zip lock bag? Zipper storage bags (also known as zipper bags, slider storage bags and grip seal bag) are an invaluable tool to today's businesses – particularly those dealing in eCommerce. From finding out when best to use them through understanding why they have become so essential – explore the ultimate Guide To Zip Lock Bags
Zip lock bags offer the convenience of multiple, easy-access secure seals. Their slider mechanism works like a zip fastener. Another kind of them can easily be opened with just your fingers for repeatable closing and opening on demand. Zip lock bags provide a convenient, space-saving option for keeping items organized. Available in an array of hues and sizes, plus the choice from transparent to paper material versions. In addition. with custom printed zip lock bags, your brand identity can reach a new level. Explore the  proper Guide To Zip Lock Bags with lots of examples and tips.
Different types of zip lock bags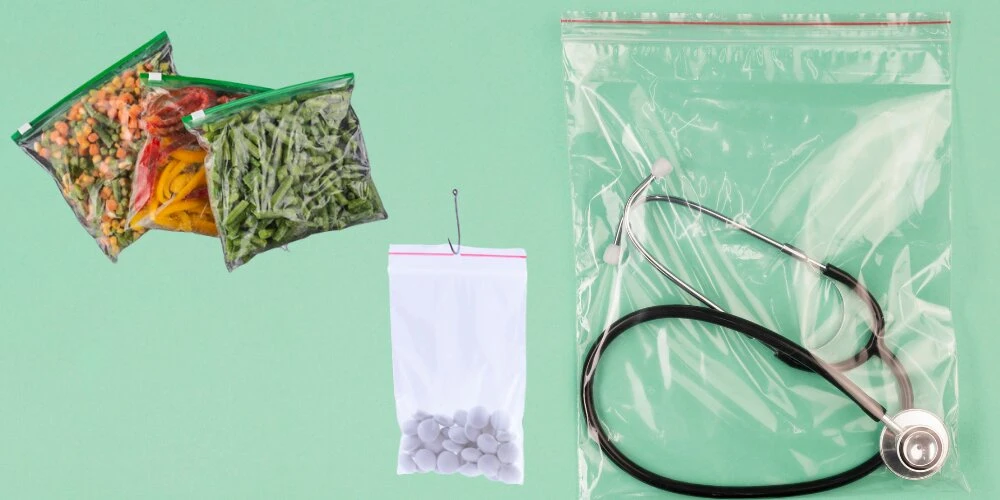 Zip lock bags come in a wide variety of shapes and sizes, so it's easy to find one that fits your needs. From small storage zip lock bags for everyday use, to larger white zip lock bags for craft projects, to premium zip lock bags with unique prints, there are lots of options available. With all the zip lock bag types currently on the market, customers can easily find one that meets their needs and preferences. A proper Guide To Zip Lock Bags can solve daily life problems to customer or a business.


Clear zip plastic bags: With a wide range of sizes, these "standard" offerings make it easy for both online and in-store retailers to provide their customers with the best possible packaging experience. Bulk capabilities also ensure e-commerce businesses can easily pack up multiple products. This offers a crystal clear presentation to customers and maximizes product appeal.


Matte zip plastic bags: This kind of zip lock bags are a variety of sizes available too. Meanwhile they also stand out with their customizable designs. From eye-catching colors to stylish patterns, the product's advanced aesthetic makes it an ideal choice for those looking for added flair without compromising on quality.


Kraft zip lock bags: This kind of zip lock bags is also available in customization and different sizes. But because the paper material, they can be printed more colors than those matte zip plastic bags. What's more, you can customize a stand-up barrier or a transparent window on them too.
Pros to using zip lock bags:
Cheaper than boxes: Cost-conscious business men will be delighted to learn that these packaging solutions offer a more budget-friendly alternative than traditional corrugated boxes.

Saving much storage space: Make the most out of your storage space with flexible, lightweight zip lock bags. These handy options are easy to use and take up less room than many other alternatives.


Anti-static option: For those looking for a convenient clothing storage solution, the anti-static option of zip lock bags has you covered.


Anti-fog option: To ensure maximum visibility of their products, businesses often opt for transparent zip lock bags that are equipped with an anti-fog feature.


Reusable option: Zip lock bags are an ideal storage solution due to their easily resealable design; allowing for multiple reuses without compromising the integrity of the bag.


Eco-friendly option: Zip lock bags have become an eco-friendly packaging solution, with their production utilizing recycled materials and allowing for compostable disposal.


Weatherproof protection: This kind of bags is crafted with water-proof materials to give your items or documents added protection from the elements.
Cons to using zip lock bags:
Not suitable for large items: Zip lock bags offer a range of sizing options, but these can't always accommodate larger items. This leaves wasted space and an inefficient fit – something to take into consideration when packaging products.


Not curbside recyclable: Many of these bags are made from plastic, and they usually can't be throw into a recycling bin directly.
Applications for zip lock bags
Shipping: Zip lock bags are an ideal all-around packaging solution for shipping items. They provide a strong, durable barrier that is lightweight and can be sealed securely shut with zip close technology. The zip locking mechanism not only helps protect the contents from dirt, dust and moisture but also makes opening and closing easy, even when the bag is overloaded or filled with oddly shaped items. Additionally, zip lock bags are waterproof which further ensures safe item transportation no matter the external environment. With zip lock bags, you can be assured that your items will reach their destination safely and in perfect condition.


Packaging: Zip lock bags are one of the most versatile product packaging and display options available. With anti-fog and anti-static properties, zip lock bags are the perfect choice to protect food from moisture, keep magazines or promotional materials neatly organized and protected from dust. Their wide range of sizes makes them ideal for all kinds of product packaging and display needs, from craft stores to grocery stores. Zip lock bags are reliable, freely available, affordable – making them an excellent choice for all business needs.


Storage: Zip lock bags are an effective way to store items for both home and travel – their transparent design makes it easy to pinpoint the contents of each bag, and their zip closures ensure a secure seal. Additionally, zip lock bags can be vacuumed while sealing them to remove air and hence save space. This is especially useful when packing for trips, as it allows you to pack more in limited space. Thus, zip lock bags cost-effectively optimize storage with both their quality construction and innovatively designed features.
Tips for purchasing zip lock bags
When shopping for zip lock bags, there are a few factors to consider.
Size is a key factor: For example, if you need zip lock bags for clothing items you will need larger ones than if you intend to store small objects.


Strength is important too: Look for zip lock bag that are designed to hold up over time and not tear or break easily.


Consider the type of material being used: Plastic zip lock storage bags are popular, but paper zip locks are also available in some places and might be more suitable for certain items or situations.


Customization is also a good idea: Zip lock bags can be imprinted with your own brand logo or design to give the product a special appeal.


Taking all of these tips into account when purchasing zip lock bags will help ensure that you pick out the right type of bagging solution quickly and efficiently.


Businesses that need support with packaging design, printing can trust Package N' Go to provide an integrated solution. Our experts are here to make the package process more efficient and help you take your business operations up a notch.


With our all-inclusive services, we offer packaging needed for e-Commerce success in one place. Reach out today to learn how easy it is work with us and explore the possibilities of smarter packages every time.