Are you looking for a packaging solution that is cost-effective and provides excellent protection for various items? Bubble mailers can be an ideal choice for businesses. These unique packages are lightweight and feature air cushioned bubbles that help absorb shock, making them perfect for protecting fragile items from wear and tear during shipping or storage. In this blog post, we'll explore the different types of bubble mailer available, including their advantages and disadvantages to help you determine which type is best suited to your business needs.
Poly bubble mailers are incredibly reliable when it comes to shipping items, no matter the size or fragility. They offer a number of incredible features, making them the most common choice among similar products. These poly bubble mailer are soft to the touch while also being waterproof and tear-resistant; even if items within them get bumped in transit, they remain safe thanks to their shockproof capabilities. Their popularity is well-deserved, as they make sending items via mail simple and hassle-free.
Poly bubble mailer offer strong protection for your items with their co-extruded film and PE air bubble combination. Crafted from a blend of specialized plastic materials, these reliable envelopes ensure safe delivery every time.
Color and Printing : Available in all kinds
Poly bubble mailer provide cushioning and support to ensure fragile items are secure while being shipped, making them the perfect choice for shipping books, clothes, small electronics and other delicate items.
2. Pearl film bubble mailer
Pearl film bubble mailers are of a top-tier standard in mailers and packaging solutions. Their outside surfaces have some protuberance which have the potential to affect the overall look and feel of the finished product, but this can be mitigated with light-colored printing – rendering it barely visible. Pearl film bubble mailers are praised for their matte finish which make them waterproof, tear-resistant, and shockproof; all without sacrificing on the aesthetic quality of your packaging.
Made from white pearl film and high-quality PE air bubble, these mailers are strong and lightweight. They protect items in the mail with a 4-layer construction composed of pearl film, air bubble, pearl film and adhesive seal.
Color and Printing: Available in all kinds
Pearl film bubble mailers are a great choice for shipping delicate items that need extra protection, such as clothes, socks, underwear and small accessories.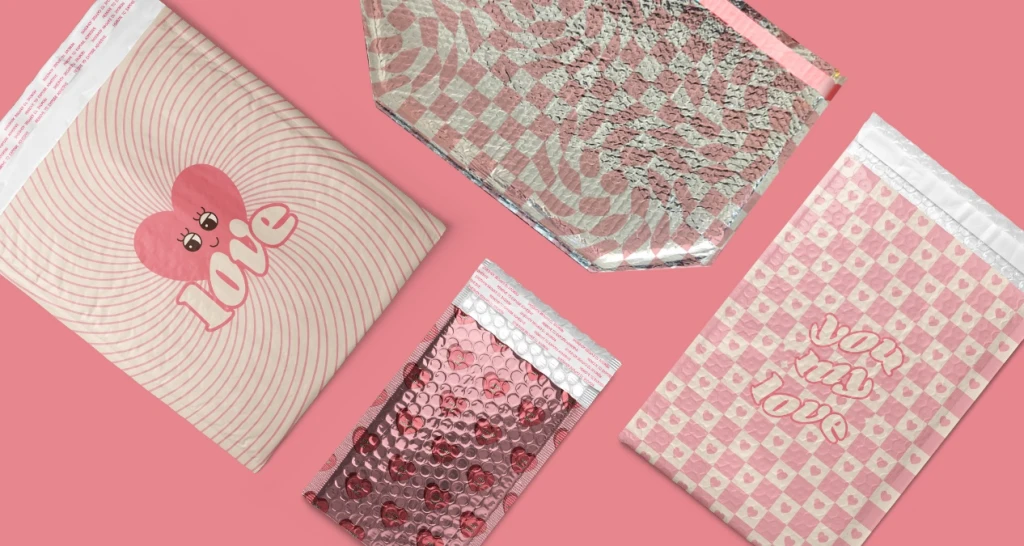 3. Matte OPP bubble mailer
Matte OPP bubble mailer offer an affordable packaging solution for businesses on a budget. Not only are matte OPP bubble mailer waterproof, tear-resistant and shockproof, but their matte finish adds a professional touch to your mailed items. Compared to metallic bubble mailers, matte OPP bubble mailers may lack the sheen of metal, however the matte finish still helps to protect your products in transit.
When looking for reliable and affordable packaging options for sending out parcels, matte OPP bubble mailers should definitely be considered – they offer excellent protection with an attractive matte coating that won't break the bank.
Constructed from high-quality OPP film combined with PE air bubbles, these mailers provide maximum protection during transit.
Color and Printing: Available in all kinds
Designed with strong protective bubble lining and fully matte exterior, these mailers are especially suitable for items such as perfume boxes, jewelry, gifts, waistbands, watches and ties.
4. Metallic bubble mailer
Metallic bubble mailer are perfect for both business and personal use due to the lasting features they present; metal, holographic, rigid, waterproof, tear-resistant and shockproof. These metallic bubble mailer have a metallic finish that gives them an elegant luxurious look, while some of them come in warm and eye catching holographic colors.


The unique blend of metalized polyester and low-density polyethylene materials used to make this mailer provides superior rigidity and protection which makes metallic bubble mailers ideal for mailing valuable items without fear that the packaging might not match its content.
Made from metallic film and a PE air bubble lining, metallic bubble mailers provide great protection for items that are being shipped.
Color and Printing : Available in all kinds. Metallic bubble mailers provide a unique benefit due to their special printing technique that other bubble mailers don't have. This laser-printing technology adds an extraordinary shine to the metallic envelope when viewed from different angles.
Metallic bubble mailers are the perfect solution for safely and securely shipping delicate items like perfume boxes, jewelry, gifts, waistbands, watches, ties, and cosmetics.
Thermal bubble mailers are an attractive option for businesses shipping fresh food, as they offer many of the same benefits of their metallic cousins — including waterproofness, shockproofness and tear-resistance — at a more affordable price point. They also provide thermal insulation to keep temperature away, and are usually much thinner than metallic mailers, meaning they are softer to the touch. With thermal bubble mailers, businesses can benefit from cost savings while still offering reliable protection for their delicate products.
Thermal bubble mailers provide a unique combination of aluminum foil and PE bubble film to protect goods during shipping, ensuring they arrive in perfect condition.
Color and Printing: Normally silver with no printing.
Thermal bubble mailers are suitable for protecting delicate fresh food items like ice cream cakes, fruits, and sea foods and keeping them fresh while they are being shipped.
Although kraft bubble mailers have the "natural" look, they unfortunately do not have the same protection as other materials. They are not waterproof or totally puncture or tear-resistant, so great caution must be taken if using this type of mailer. It is important to keep in mind that kraft paper and plastic must be separated for recycling purposes. Therefore, kraft bubble mailers take some extra effort to reuse them in case of an emergency.


Thankfully, kraft bubble mailers are smooth and shockproof so your package should still arrive safely with some added care during transit.
Kraft bubble mailers offer superior protection for your items with the reliable combination of kraft paper and PE bubble film.
Color and Printing: Normally are yellow, white, brown and can be printed with any patterns.
They come in a variety of sizes and are perfect for sending items such as books, CDs, and small accessories – even clothing items.
7. Waterproof kraft bubble mailer
The waterproof kraft bubble mailer is an innovative update to the ordinary kraft bubble mailer, making it totally waterproof and tear-resistant as well as puncture-proof. It's strength is its ability to retain its waterproof benefits even in harsh conditions. With the addition of easy-open tear tape, customers can expect a smooth, matte finished product that is waterproof, tear-resistant and shockproof. This makes the waterproof kraft bubble mailer the perfect packaging solution for any application where protection from moisture and exterior damage is essential.
They are made with an exterior layer of waterproof kraft paper providing a strong barrier against moisture, while the inner layer of PE air bubble protects items from impact shocks.
Color and Printing: Available in all kinds
Waterproof kraft bubble mailers are the ideal choice for anyone shipping jewelry, cosmetics, rings or accessories.
8. Biodegradable poly bubble mailer
Investing in biodegradable poly bubble mailers for shipping supplies speaks volumes about your sense of social responsibility and is a great way to promote the high grade of your brand. Your customers will appreciate your commitment to the environment and it will give you a competitive edge by having excellent corporate image. The biodegradable poly bubble mailer isn't commonly found in the market, yet its cost can be very reasonable and provide strong value in terms of customer impressions.
Made from biodegradable film and biodegradable PLA air bubble which makes them perfect for businesses that want to reduce their environmental footprint.
Color and Printing: Available in all kinds
Biodegradable poly bubble mailers are an ideal way to ship your prized possessions. Whether you want to ensure that books arrive in pristine condition, clothing arrives wrinkle free and small electronics remain securely protected – biodegradable poly bubble mailers will meet all of your needs.
9. Biodegradable kraft bubble mailer
These biodegradable kraft bubble mailers are the perfect solution for businesses looking to send items safely but sustainably. The biodegradable material allows these mailers to be highly customizable while being free of hazardous chemicals, while the smooth and shockproof nature ensures packages arrive in pristine condition no matter the journey they take. Businesses now have an eco-friendly option that still delivers on efficiency and protection – biodegradable kraft bubble mailers.
Manufactured from biodegradable PLA air bubbles, as well as biodegradable kraft paper. This combination of materials allows the packaging to biodegrade at a much faster rate than previously used products, meaning fewer resources will be wasted in production and transport.
Color and Printing: Normally are yellow, white, brown and can be printed with any patterns
Biodegradable kraft bubble mailers offer a foolproof way to keep your prized possessions safe. Perfect for books, clothing, small electronics and more – these eco-friendly mailing solutions are sure to meet all of your needs.
Now that you know more about the different types of bubble mailers available, as well as their various features and benefits, you can make a more informed decision about which type is right for your needs. If you have any questions or problems choosing the right type of bubble mailer, don't hesitate to contact us. Our team of experts will be happy to assist you in finding the perfect product to meet your needs. Contact Package N' Go today for more information about bubble mailers and other packaging products.